Buy Guns & More at Phoenix Pawn & Guns
When you buy guns, you already know what you are looking for.  Whether it is a pistol, revolver, rifle or shotgun, you want to buy, you also want it at a decent price.  That is why Phoenix Pawn and Guns is a place you want to shop.  Because when it comes to gun shops, we are known for our impressive selection, and fair prices.  As a result, our staff takes pride in every sale of quality new and used firearms and accessories.
We Sell New and Used: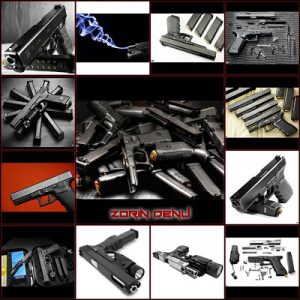 Pistols & Revolvers
Rifles
Shotguns
Holsters
Rifle Scopes & Gun Sights
Tactical Watches, Body Armor, Helmets
Magazines & Clips
Cleaning Kits
Ammo
And more!
Buy Guns, Accessories or Ammo That Are New Or Used at Phoenix Pawn & Guns
At Phoenix Pawn & Guns we have a great selection of new handguns, rifles and accessories that we buy directly from the manufacturing companies.  Therefore, when you purchase a brand new firearm from us, it comes with all the accessories, in its case, with the manufacturers warranty.
In addition to new guns, we also sell quality used guns as well.  These firearms were purchased by our pawn shop from the public.  Every pistol, revolver, rifle and shotgun that we purchase is thoroughly assessed when it is brought in to our pawn shop.  The variety of used guns that we have for sale depends on what has been sold to us.  Therefore, it is always worthwhile to see our selection of rifles, shotguns and handguns that have come in recently.  Because the chance of buying a hunting rifle you've wanted at an affordable price is probably sooner than you thought!
BRANDS YOU WILL FIND WHEN YOU BUY GUNS, ACCESSORIES AND AMMO AT PHOENIX PAWN & GOLD:
Buy Guns on Layaway Here at Our Phoenix Gun Shop
if we have a gun you have been looking for, but not all of the money right now, no worries!  We have a layaway program to buy any gun or firearm in the store.  With just 25% down of the total amount after tax, we can set you up on a monthly payment plan.  It depends on the amount of the sale, and the amount that you put down on the firearm on the duration of the layaway.  Although, the monthly payment is just the minimum amount to be paid.  Therefore, if you want it quicker you are always welcome to pay more than is stated.  Once the last payment is made, the firearm is officially yours!
Phoenix Pawn & Guns also offers FFL Transfers for $25 per transaction.